Legendary Marketer is an online marketing school that offers robust digital courses, coaching, and live mastermind events. It was created by digital marketing expert David Sharpe.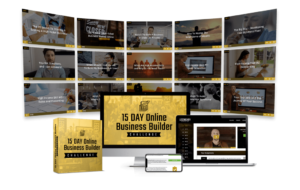 They have low-priced front-end products like the Legendary ebook, Copywriter's Playbook, 15 Second Leads, and the 15-Day Business Builder Challenge. These are excellent entry-level marketing training products that can help you get started with affiliate marketing and other online business opportunities. Checkout Legendary Marketer Scam for more information.
It's a membership site.
Legendary Marketer is a membership site that provides training materials, one-on-one coaching, and live events to help you build a successful online business. It primarily focuses on affiliate marketing but also covers other aspects of online business, such as coaching, consulting, and even selling digital products.
It has a wide range of training products at different price points, and the majority of its content is written or video-based. It also has an incredibly active community of members who are passionate about building their businesses.
Their entry-level products cost between $1 – $30, and their high ticket items are $2,500+. The entry-level products include a 15-Day Challenge that helps you get your business up and running quickly and one-on-one coaching with David Sharpe.
The 15-Day Challenge is a great way to learn the basics of online business. It's easy to follow and takes you step-by-step through the process of launching your own online business.
You'll have access to a Facebook community of over 16,000 members who can support you in every step of your journey. Despite all the videos, bonuses, and downloadable PDFs you get with these high-ticket packages, it's the community that will make or break your experience with Legendary Marketer.
They have a variety of high-ticket training packages that focus on specific topics like events and masterminds, coaching and consulting, and digital products. The Events and Masterminds Business Blueprint is great for people who want to host or attend events and build connections with others in the business.
Another high-ticket package is the Affiliate Marketing Business Blueprint which teaches you how to promote other companies' products and services to generate revenue for them. You'll earn commissions on these sales and can use their own sales team to close the deals for you.
They also have a digital product suite which includes the Digital Products Business Blueprint that shows you how to create and sell your own products. It's a good choice for those who want to be their own boss and create their own revenue stream.
It's a community
Legendary Marketer is a community of internet marketers who share tips, tricks, and strategies for making money online. They also offer free training and live events, and they have a wide variety of products that can help you build your business.
They have a membership fee and a monthly subscription plan that allows you to access all of their features. They also have an active Facebook group where you can ask questions and get answers from the community. They are not as large as ClickFunnels, but they are growing rapidly and have a strong community.
The best thing about Legendary Marketer is that it teaches you how to make money with affiliate marketing. It has a number of low-ticket front-end offers and high-ticket back-end offers that are designed to teach you everything you need to know about creating an online business.
For example, the Legendary affiliate marketing eBook and Copywriter's Playbook are both under two dollars. These low-ticket front-end products are incredibly easy to market and bring your audience to the Legendary ecosystem. Once they're in, you can then introduce them to the Business Blueprint merchandise during their 15-Day Challenge, which pays a huge commission ($1,000+) to the Legendary affiliates that close these sales.
LM also has a coaching and consulting business blueprint that teaches you how to create your own high-ticket training program. This course helps you find your niche, package it, and sell it to your clients. It also teaches you how to set up your own mastermind meetings and online seminars so you can grow your income with high-ticket offerings.
Finally, Legendary Marketer teaches you how to use sales funnels and track your leads. This is a big advantage over other affiliate programs since it allows you to easily follow up with your leads.
It also teaches you how to set up sales funnels that work with all major email services, like Aweber, GetResponse, and SendLane. These are essential for any online business because they allow you to collect emails from your potential customers and follow up with them later.
It's a business opportunity.
Basically, it's an ecosystem of online marketing training products created by David Sharpe. It features an array of low, medium, and high-ticket products, ranging from courses, coaching programs, systems, events, and masterminds. It also offers a 15-day challenge for free that helps you get started on the right foot.
In short, Legendary Marketer teaches you how to make money online by promoting digital products. It's a business model that can be used by anyone, whether you're a beginner or an experienced entrepreneur.
One of the best parts about Legendary Marketer is that they have an active community where you can get help if you're having any issues with the program. They have an official FB group for both Legendary Marketer affiliates and Blueprint buyers, as well as a private case study FB group.
They also have a dedicated team of coaches to assist you with your marketing efforts and help you grow your business. They're also willing to answer any questions you have.
However, it's important to keep in mind that most people who are new to online marketing don't have the time or resources to invest in paid traffic. So, while the program may have the potential to turn you into a successful online marketer, it's unlikely that you'll be able to earn a six-figure income using this approach.
Another thing to consider is the price tag. Buying some of these Legendary Marketer products will be expensive, especially if you're new to the world of online marketing.
This is a problem for many, as online marketing can be very costly and time-consuming. You have to spend a lot of time learning the nuances of online marketing, as well as building and optimizing your sales funnels.
The good news is that Legendary Marketer has an easy-to-follow, step-by-step system for creating and promoting your own digital products. You'll learn how to create digital products like eBooks, video-based courses, and audio files that you can sell on a membership website.
The bottom line is that Legendary Marketer has the potential to transform your life if you're ready to take action. It's not for everyone, but if you want to live a life of adventure and memories while earning an income that can easily grow as big or small as you want, it's a good place to start.
It's a training program
Legendary Marketer is a training program that is dedicated to teaching people how to make money online. It consists of digital courses, eBooks, support groups, and live events that help people learn the essentials of Internet marketing.
It's designed for both beginners and experienced marketers who want to build a thriving online business. It also has an affiliate program where members can earn money by referring others to Legendary Marketer.
One of the best things about Legendary Marketer is that they have a community of passionate entrepreneurs and affiliate marketers who can answer your questions and offer support. You'll also be able to find helpful articles and guides on the website to help you succeed in your business.
Unlike other programs, Legendary Marketer's training is targeted at beginner and intermediate marketers who are looking to start their own businesses online. The training focuses on the key fundamentals of online marketing, such as building sales funnels, value ladders, and storytelling techniques.
It also features a private Facebook group for its members. Moreover, there are weekly events that give you the opportunity to meet with other members and network.
The main front-end product is the 15-Day Business Builder Challenge, which is a step-by-step course that helps you get started with your business. It's easy to follow, sequential, and leaves you with a complete business setup by the end.
In addition, it contains daily tasks, quizzes, and coaching. There are also many other resources available, including podcasts and webinars.
Another great thing about Legendary Marketer is that their members are assigned a personal coach who can provide support. These coaches are expert marketers with a wealth of knowledge and experience in their field.
They also offer an exclusive membership club with access to a variety of high-quality video lessons that teach different aspects of online marketing. These videos are incredibly informative and cover everything from mindset to product selection, sales funnels, and email marketing.